We all know the couple: the hot-headed lover who keeps testing the patience of an even-keeled partner who forever winks and smiles and puts-up-with. We've all been witness to it, and many of us have been or will be a part of that cycle--perhaps playing both parts in different relationships. And for those of us more apt to personally identify with the former personality than the latter, there is no greater fear than that of a partner who one day throws up their hands and says "I've had enough!"....and means it. Under the direction of the peerless Hollywood master William Wyler, Bette Davis and Henry Fonda play out such a scenario against the backdrop of Louisiana in 1852. The film was Jezebel, an Oscar-winning box office smash that opened at Radio City Music Hall on March 10th, 1938, launching Bette's reign as Queen of Hollywood.
Bette Davis on the role William Wyler's Jezebel played in shaping her future.
Jezebel is rightfully touted as an epic Southern melodrama, but its impact is derived from how easily its characters and relationships could be transplanted to any other time or place. This, among many other reasons, is why I consider it

vastly superior to the classic film which it has always lived in the shadow of: Gone With The Wind. Last year, I wrote a 75th Anniversary tribute to Marked Woman, the unsung classic that began the greatest chapter of Bette Davis's career. William Wyler's Jezebel, released eleven months later, was the film that Miss Davis always credited with "making me a box office star", so I felt I should write another tribute. Alas, time kept that from happening. Instead, here's a recently discovered paper I wrote in high school for a favorite teacher, Mr. Raymond Carrey. Mr. Carrey was already a passionate feminist, but I hoped to expand his canon of great feminist texts by encouraging him to look at the films of Bette Davis in a new way. I'm happy to say he liked my work.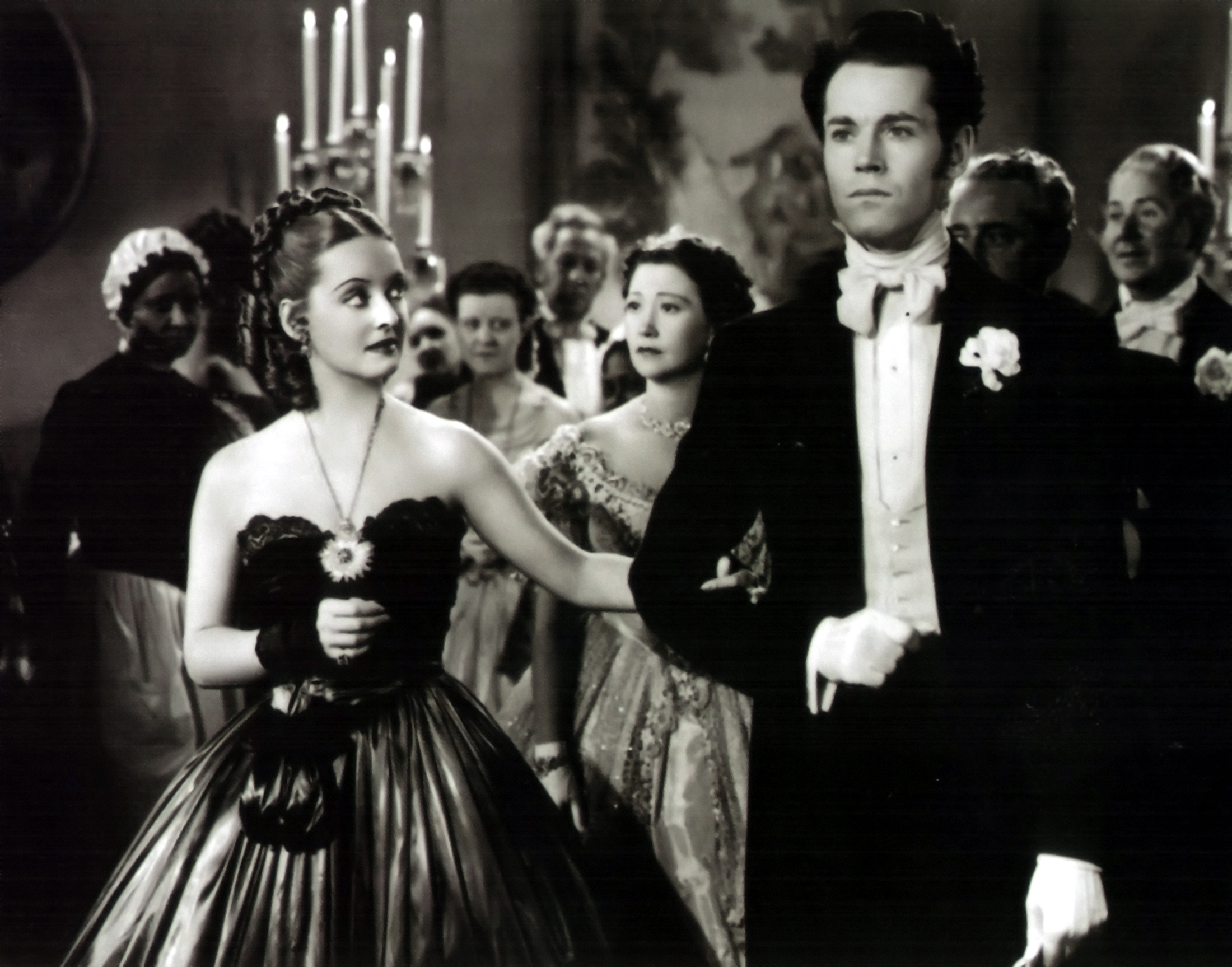 The Rise and Fall of Hollywood's Studio System
When I set out to research Hollywood's studio system from its beginning to its ultimate demise, I had no idea that such a task would involve researching every single studio's individual history. In spite of the fact that Hollywood's studio system had always been a practice and an institution which I have found to be complex and fascinating, I had always been under the false impression that it was some kind of a sprawling Empire. I knew that there was a great deal of individual studios promoting their own stars and filmmakers, but what I did not know was that each individual studio began their own, private Hollywood journeys at different times and for different reasons. Therefore, I have decided that it would be best to pursue the rise and fall of The Warner Brothers Studio. In addition to the studio's interesting timeline, Warner Bros. was well known at the time for making films that were about cultural significance as opposed to scope and glamour. "Warner's….was more closely associated with realism and some excellent social-problem films," said actress Agnes Moorehead at one time. "MGM was bigger, but today the critics esteem Warner's highly." (Hadleigh, 155)
The Warner Bros. Studio came into the Hollywood power game relatively late. When the studio began to form, in the early 1920s, MGM and Paramount dominated the industry. (Schatz, 58) The studio that would be Warner Bros. was the

brain child of four brothers from the East Coast: Sam, Abe, Harry, and Jack. The brothers started out by distributing films during the period of 1910-1919, aided by the powerful Wall Street broker, Goldman Sachs. Sachs saw the potential for the film industry to become a major force in American economics, and was sure that he could propel the Warner Brothers ahead in this boom. (Schatz, 59)
In 1920, the brothers emigrated to the West Coast, where they leased a facility for producing films. There, they produced several feature films. In 1922, the brothers moved on and bought a 10 acre plot of land, where they developed The Warner Bros. West Coast Studio. In 1923, the evolution of a studio was in full swing. The name of the studio/production company became "Warner Bros.", and the brothers received a donation of half a million dollars from an LA banker by the name of Motley Flint. The money was split between upgrading the studio development, buying rights to several stage plays, and producing the first ever "Rin Tin Tin" movie, Where The North Begins. (Schatz, 59-60)
The studio continued to grow and enjoy smashing success throughout the 1920s. By 1925, the studio had released more than 25 films, and signed several solid stars to contract. The studio upped its budget/production schedule to thirty pictures per year, and the studio expanded its distribution by buying more second-run movie houses (theaters in small, suburban areas with less splendor than first-run film houses) and by building several huge, extravagant first-run movie houses. (Schatz, 60-61)
It was in 1927 that Warner Bros. forever changed the medium of filmmaking. In February of that year, several studios had announced that they would not be incorporating sound into their films for at least another year. The studios apparently felt that this was too risky a venture, and that the orchestration that accompanied films in first-run movie houses was appropriate enough. (Schatz 64) Warner Bros., in an attempt to compete with more well-established studios like Paramount, MGM, and Universal, opted to take a risk and woo a larger audience with the attraction that sound offered. The risk paid off. (Schatz 64)
The studio's first feature to offer sound was The Jazz Singer, a film that offered little plot but still a great deal of music and minimal spoken dialogue. The Jazz Singer was a box office phenomenon, earning a then-spectacular $3 million and prompting Warner bros. to churn out more "talkies", as sound-capable films were called, so as to beat the other studios to the punch. Once again, their plans paid off, as the studio continued to soar as a result of this technical advantage over Warner Bros.' competitors. (Schatz 64)
The 1930s is considered by some to be the finest decade in American cinema. It was also one of the most influential. The '30s marked the beginning of Technicolor, the introduction of some of American cinema's brightest stars, and the first time in American history when a nation of audiences could escape to a fantastical world of fiction and fantasy during the harsh reality of their lives. (Schatz 199) Coinciding with the public's definitive embrace of American cinema was the beginning of the stars' resistance towards the oppressive studio system. (Schatz 200) While numerous stars would take part in the rebellion against the oppressive studios, perhaps the earliest and most public rebel was screen legend Bette Davis.
Warner Bros., not unlike every other studio, was willing to go far to publicize a new movie. In the case of the 1939 film Juarez, the studio reportedly paid a man to jump into a cab, tell the driver to "Take me to Juarez!"', and then travel all the way to Juarez, Mexico. The next day, headlines appeared in newspapers proclaiming that "Fan Drives 2500 Miles to See Juarez!". Such an extravagant and original publicity stunt was not especially uncommon during the era when studios controlled filmmaking. (Hadleigh, 198) However, controlling all aspects of filmmaking also meant controlling actors, and such a dominating presence was eventually resisted by actors hungry for artistic freedom.
"Well, the so-called Golden Age of Hollywood was not necessarily that golden…it was damn trying at times," said Bette Davis of her days as a young actress. "We were properties of Warner Bros. We were contractually bound. We were indentured. Of course, I fought to help end the feudal system…[Myself and other actors] fought to improve it, but the studio system was a form of slavery, undeniably." (Hadleigh, 57) Davis's sentiment reflected the view of many performers in Hollywood. Actor Tyrone Power once even compared Hollywood to "a gilded cage". (Hadleigh 57) Unlike today's studio system, in which actors are cast in individual pictures or perhaps commit to several films as part of a contract, in the 1930s the majority of actors worked for one studio all the time. The studio would "own" them for a certain period of time, provide them with steady work and a steady pay, and require them to comply with certain studio demands or risk suspension or revocation of contract. (Davis 30) In addition, female performers faced harsh punishments if they did not comply with certain "sexual obligations" that the studio had placed upon them. Furthermore, reporting such harassment could result in a woman's career coming to an abrupt end, as Bette Davis would later describe in an interview:
I'm so thankful I never had to rely on my looks. I survived on talent and temperament. If I'd had to make it on the casting touch, I'd have screamed "Rape!" and that would have ended my career! Oh, it was terribly unfair—much more unfair on the actresses.
Although Davis did not detail the corruption of the studio system until later in her life in various interviews and publications, she ended up making positive improvements in the system—without even intending to. Her persistence and perseverance in the demand for challenging roles would go on to make her a star, and to eventually open more doors for actors and actresses to come. (Staiger 205)
By the time 1934 rolled around, Bette Davis had completed 21 films, most of them supporting roles with little depth. Tired of being written off as a supporting player in paper-thin roles, Davis fought hard for Warner Bros. to "loan her out" to RKO Pictures to make a film entitled Of Human Bondage. Although studios did, on occasion, loan a contract player to another studio for an individual film, this particular move seemed especially unusual because she was fighting hard for a non-glamorous role that had been turned down by virtually every actress in Hollywood. Whether it was out of having been convinced or simply tired of Davis's persistence, Jack Warner, who at the time made the majority of decisions regarding the artistic side of filmmaking, allowed her to go. "Go ahead, hang yourself!", he reportedly told Davis, referring to the fact that the role could very well end her potential career. (Wiley & Bona 53)
To say the least, Jack Warner was wrong. Though Of Human Bondage was only modestly successful at the box office, critics and audiences hailed Davis's performance as a revelation, with Life magazine going so far as to call it "probably the best performance ever recorded on the screen by a U.S. actress". (Wiley & Bona 53) Davis's rebellious tendencies would also yield two other smashing success stories during the 1930s. In 1936, still dissatisfied with her roles, Davis was suspended by Warner Bros. for refusing to work until demands were met for a new contract. During her suspension, Davis traveled to England to discuss a possible film contract with an independent production company. Warner Bros. successfully sued Davis to prevent her from signing. Bette was unfazed by the lawsuit, and immediately after returned to work at Warner Bros., no longer pleading for modifications in her contract. In retrospect, it is widely believed that the lawsuit was just what Davis wanted, for when she returned the studio began to offer her far better material, starting with a role in the film Jezebel. David was ecstatic about the role in Jezebel, which would offer her far more depth than many of her previous screen endeavors. The enthusiasm apparently translated to the screen as well. Jezebel, which predated the similarly themed Gone With The Wind, was an acclaimed box office blockbuster. The Southern epic earned Davis a Best Actress Academy Award and solidified her as one of the nation's top box office stars. (Staiger, 79-80)
1938's Best Actor & Best Actress: Spencer Tracy for Captains Courageous
and Bette Davis for Jezebel
In 1939, Bette Davis fought for a role in the film Dark Victory, the tragic and inspiring tale of a wealthy young socialite who is stricken with a brain tumor. The film was initially seen as being too dark and depressing, with Jack Warner proclaiming that "no one wants to see a story about a girl who dies". However, the film was released, became a box office success, and earned Davis her third Academy Award nomination. (Hadleigh 95-96) Although it marked a tremendous personal achievement for Davis, it marked perhaps an even greater achievement for all women. Although pictures with strong female leads been successful in Hollywood throughout the 1930s, Dark Victory ushered in a period in Hollywood during the early 1940s when women did more than just make up a large portion of the box office: they controlled it. Dark Victory was written for and about a complex female lead, and explored numerous emotions that were not always typical of the glamorous leading ladies of archetypal Hollywood films. In the years to come, Miss Davis would lead the pack of numerous actresses who spoke directly to the emotions and plights of all women, at times delving into emotional territory that has not since been seen on the screen. (Hadleigh 111)
The 1940s offered a chance for Hollywood to become even more embedded in American society than ever before. World War II was going on at the time, and many actors, like most Americans, were feeling a great sense of nationalism. It was during this period that stars began to entertain troops in barracks, serving food and socializing at the Bette Davis-run Hollywood Canteen. It was also when celebrities began to promote the sale of war bonds, either through contractual obligation to a studio or, perhaps more commonly, through their own will to be patriotic. (Schatz 302)
Bette serving troops at The Hollywood Canteen
It was also during this period, in 1940 in particular, that Hollywood began to incorporate non-white actors in significant roles in mainstream film. No example is more well-known or significant than the casting of African American actress Hattie McDaniel in the phenomenally successful Gone With The Wind. Segregation was still very firmly a part of society during the film's release in 1939, so much in fact that McDaniel was excluded from the film's Atlanta premiere. However, in 1940, she became the first African American to be nominated for an Academy Award. On February 29th, 1940, Hattie McDaniel became the first-ever African American to win an Academy Award. Presenter Fay Bainter, before announcing the award's recipient, told the audience that the night was "a tribute to a country where people are free to honor noteworthy achievements regardless of creed, race, or color." At the announcement of McDaniel's name, she received the biggest cheer of the whole night, and called this "the happiest moment of my life". (Wiley & Bona, 98-100)
In spite of McDaniel's achievement as both an actress and an African American, and Hollywood's enthusiasm for her merit, Hollywood has since been accused of putting McDaniel in a stereotypical role that mocked her ethnicity as opposed to celebrating it. In addition, Hollywood took a great deal of heat for casting black actors and actresses only in roles that offered entertaining stereotypes to the studios' target white audiences. Such an accusation is most certainly justified, but the situation of black actors in films during the 1940s actually exposes the dramatic differences between the mindsets of Hollywood filmmakers and actors and the studio heads. Hollywood was known for being a "safe" place for homosexuals, for most actors were far more accepting of this lifestyle than the majority of Americans. In addition, the majority of Hollywood personalities were open to equality and civil rights, even at a time when segregation existed and racism ran rampant in every city and town in America. Many of the studio heads were, on a personal level, sympathetic towards black actors, but felt the need to play to an audience that did not necessarily have as open a heart as the people who made up Hollywood. (Schatz 315) Such an example involved The Hollywood Canteen. Bette Davis, who was President of this establishment that provided entertainment and recreation for troops, refused to permit segregation of any kind. To anyone that dared defy her, she reminded them that "the blacks got the same bullets the whites did and therefore should have the same treatment." (Davis 128) However, the studios feared the possibility of white troops being photographed with black hostesses, for if word got to the South, potential donors to the Canteen might back out. (Davis 128)
Such a profit-over-humanity mentality hindered the beliefs of a slightly more progressive group of people, and thus many talented black performers were force to reduce themselves to stereotypes for the sake of "not coming on too strong" for the white audiences. Even though the casting of black actors in somewhat offensive roles was not the way to go about promoting equality, the awarding of an Oscar to Hattie McDaniel was perhaps indication of a desire for equality and acceptance, even if it was only within the confines of Hollywood. (Staiger 168)
The 1950s offered far more progressiveness, but also a sense of independence that would ultimately lead to the fall of the Studio System. The extremely popular 1957 film Sayonara, which starred Marlon Brando and dealt with the then-controversial subject of interracial romance, earned supporting actress Miyoshi Umeki an Academy Award, making her the first Asian actress to earn the Oscar. (Sackett 131) Marilyn Monroe broke new grounds for actresses when she became the first woman ever to start her own production company. (Staiger 192) In addition, actors and filmmakers were becoming more independent, with only a handful of the decade's top stars contractually attached to a studio. More and more actors and directors were free to work with whichever studio they chose, and this independence allowed for greater freedom both artistically and personally. (Schatz 417) Additionally, new, younger audiences were being targeted during this period with such teen-oriented films as the classic drama Rebel Without A Cause and popcorn hits like Beach Blanket Bingo. The studios were certainly not losing any money, and they still did exhibit power. (Staiger 299) However, this time the power was directed in the area of promotion as opposed to near-slavery. Studios spent a great deal of money producing documentaries to promote their films, and also sought out specific demographics to target at the box office. (Staiger 304)
My favorite scene from Rebel Without A Cause
By the time the 1950s were over, so was Hollywood's Studio System. Film historian Thomas Schatz made an interesting statement when he claimed that perhaps Alfred Hitchcock's 1960 film Psycho was the ultimate symbol of the end of The Studio's reign. He points out that Psycho was a low-budget film with a television crew and a tight shooting schedule, and that the film's then-graphic violence and sexuality was a far cry from the films of the 1930s and 1940s when studios heavily censored their material. (Schatz 489-490)
As ironic as it may sound, Bette Davis actually applauded many elements of the studio system in the later years of her life. Davis noted that while she was frustrated with the lack of work she was being offered in her first two years as a contract player at Warner Bros., those two years gave her a great deal of preparation and training for the later roles that would define her career. (Davis 113) She also noted the more positive means of promoting a film during the reign of the Studio System, making specific reference to Warner's aforementioned promotion for the film Juarez. "It was wonderful, good fun, and lots of imagination. No need for vulgarity or sensationalism then." (Hadleigh 198)
In the four decades since the gradual demise of the Studio System, there has been a great deal of criticism and admiration for an establishment that created what are considered to be the finest American films of all time and perhaps the most globally successful stars of all time. To some, the studio system was an oppressive institution that treated actors as products to be sold and stifled artistic experimentation. In addition, some feel that the System promoted prejudice in America, and invaded the lives of the stars and filmmakers who worked for studios and had to fear that their personal endeavors could jeopardize a contract. To others, the studio system was a shrewd but brilliant part of America's history which strove for artistic integrity, signed actors based on talent as opposed to box office success in previous films, provided all Hollywood players with steady employment, and which defined careers through the process of hiring writers to write roles for actors as opposed to simply casting any actor for any role.
Performance artist Madonna once stated, in response to a great deal of anti-1980s sentiment during the past few years, that "As we move further away from the '80s, I think that we will grow to analyze and appreciate them." Such is the case for the Studio System. Over the past few decades, the System has been slammed and celebrated by a wide array of people, but if nothing else, perhaps this criticism will lead people to appreciate the huge effect, whether it be negative or positive, that The System has had on American culture outside of film. During the 1930s, cinema played a vital role in helping audiences to escape from the reality of The Great Depression. In the 1940s, Hollywood was as actively involved with World War II as Washington, D.C. The System has also had effects on race relations, racial stereotypes, the changing roles of women, and the debate over artistic integrity versus profit. The Studio System built a Hollywood that has affected every generation through images and messages, but never to quite the degree that it did in the 1930s and 1940s. Oppressive or artistic, the studios have played a vital role in shaping America's cultural landscape, and have left an impression that will affect many, many more generations to come.
Looking back, I can finally see the impact that my first year of college had on improving my work as a writer....such as teaching me how to properly cite my sources. Hopefully the provided links will compensate for the citation information I left out fourteen years ago! (Although I failed to note in my paper that that Madonna quote came from an interview with Q magazine in Spring '98.) I also made a few mistakes that I would like to apologize for. I am a lot more familiar with Hollywood's studio system (specifically Warner Bros.) than I was in 1999, and must acknowledge that a lot of the material I presented exhibited a decided lack of understanding. As a result, I also did not properly convey the details of the trial that ensued when Bette Davis took Warner Bros. to court in England. Worse yet, I erroneously stated that Jezebel was the first film that Bette made after said trial (it was Marked Woman) and my paper unintentionally suggested that her only notable '30s films after Of Human Bondage were the Oscar nominees Jezebel and Dark Victory. Perhaps this was because they were the only films she made in the '30s that were available on U.S. DVD back in early 1999, but it leaves me a bit red in 2013 all the same.
I should also point out that (gulp) I wrote this paper before I actually saw Jezebel. I have loved Bette Davis since my childhood, when a combination of The Watcher In The Woods and her legendary appearances on the '80s talk show circuit made me an avowed fan. I vividly recall her death in 1989, but it was not until seeing a segment of the documentary The Warner Bros Story in 1996 that I became enchanted by her films and spent the second half of the '90s slowly absorbing them into my heart and soul. I first saw Whatever Happened to Baby Jane? in 1997. I first saw All About Eve in 1998. I first saw Of Human Bondage, Now Voyager, and Dark Victory in 1999, and in 2000 I finally saw Bette's first two films with William Wyler: Jezebel and The Letter. Since then I've seen more films and telefilms and TV & radio show performances than I can even keep track of. But those early years laid the foundation, and this paper was written right in the middle of the important period in my life when I developed as a screenwriter and cinephile thanks to the inspiration and legacy of the immortal Miss Bette Davis.